Seamless Data Flows along the Entire Value-added Chain with ZEISS GUARDUS MES
4. ZEISS GUARDUS MES Integration
ZEISS GUARDUS MES' goal is to provide information all along the value chain and to automate production processes to increase quality and optimize manufacturing. The solution is based on an integrated technology for the process-oriented capture, visualization and monitoring of all quality and production data.
The basis for this extensive pool of knowledge is automated and economic integration to both upstream and downstream systems. ZEISS GUARDUS MES has more than 20 years of experience in connecting ERP and PPS applications as well as integrating machine data. A standard interface, with pre-configured mappings of data fields, has been designed for more than 20 business applications. These can be - depending on the customer's situation - simple, flexible and above all, version and release independent. In addition to standard systems such as SAP, Great Plains, and Baan, ZEISS GUARDUS MES has much experience with deployments to custom made applications.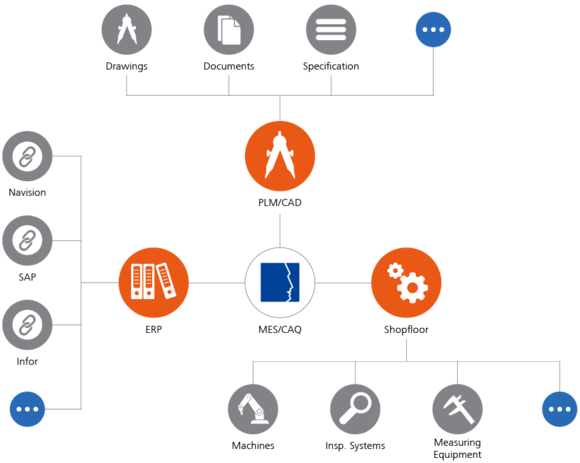 For capturing data on the shop floor, ZEISS GUARDUS also supports several standards used by numerous machine manufacturers. These include assembly line and production facilities as well as measuring machines, hand-held measuring equipment, test and vision systems. All parameters and test results are available in real-time and stored for future data management.